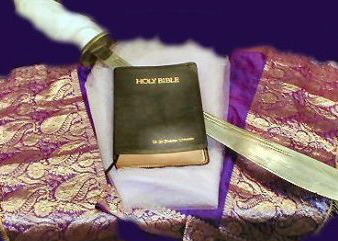 Deborah Warriors Fellowship (DWF) was one of the first ministries established under the leadership of Apostle Bettye Jenkins in 1996 and the beginning of Bettye Jenkins Ministries. DWF was inspired by the Holy Spirit through Apostle Jenkins to bring Christians together from all different backgrounds to unify them into one Body to be effective in the Kingdom of God.
In Judges, Chapter 4, God equipped Deborah, a prophetess and judge, to accompany the commander of Israel, Barak, into battle. God raised her up and gave her instructions and leadership abilities. She was spiritually committed to her walk with God, knowing if God said that He would deliver their enemies into their hands; that He would faithful to bring it to pass. She knew that God would go out before them in the battle and that no force in heaven or on earth could stand against them.
God made Apostle Bettye Jenkins a "Deborah" to the world. Just as Deborah went with Barak to assist him in his battle, God commissioned Apostle Jenkins to go in and to walk with the people as they came out of their bad situations. DWF mission is walk people out of their seemliness hopeless situations into the victories through the Word of God.
The Body of Christ has entangled themselves in much bondage and has become ineffective working in the Kingdom of God. Most of them are unable to free themselves and come out of captivity on their own.
The only way people can come out of their situations will be with God and His Word. DWF is based on Psalm 149:5-9. They are to let the high praises of God be in their mouths and a two edged sword in their hands to execute the judgment written in the Word of God.
Psalm 149:5-9 Let the saints be joyful in glory: let them sing aloud upon their beds. Let the high praises of God be in their mouth, and a two-edged sword in their hand; To execute vengeance upon the heathen, and punishments upon the people; To bind their kings with chains, and their nobles with fetters of iron; To execute upon them the judgment written: this honour have all his saints. Praise ye the Lord.
DWF teaches ordinary people to come up from their "seemingly hopeless" situations to become mighty warriors in the Kingdom of God, using the Word of God as the method to be applied to your everyday life circumstances with your family, church, community, state and country.