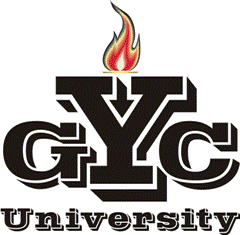 Go Ye Christian University, Inc. is a worldwide "Word Application" training center. The Bible and its truths are the structural foundation for the University. The "precepts" revealed throughout God's Word are taught here and then translated into "life application" for the students. The Word itself teaches that one is to "be transformed" by the truths found in scripture.
GYCU promotes the growth of "Spiritual Transformation" which brings liberation, understanding, and fruitfulness.
The GYCU is dedicated to the true call of "higher learning" based solely on the teaching found in the Word of God. Our University offers Degree, Non-Degree, and Certificate programs for students interested in advancing in the work of the Kingdom. Our goal is to prepare and equip every Christian for the fulfillment of the Great Commission in Mark 16:15-20.
Mark 16:15-20 And he said unto them, Go ye into all the world, and preach the gospel to every creature. He that believeth and is baptized shall be saved; but he that believeth not shall be damned. And these signs shall follow them that believe; In my name shall they cast out devils; they shall speak with new tongues; They shall take up serpents; and if they drink any deadly thing, it shall not hurt them; they shall lay hands on the sick, and they shall recover. So then after the Lord had spoken unto them, he was received up into heaven, and sat on the right hand of God. And they went forth, and preached every where, the Lord working with them, and confirming the word with signs following. Amen.